Welcome to the Murrysville Export Republican Committee Website, District 11, Westmoreland County Republican Committee
We believe in an active local Republican Committee.  We cannot accomplish our goals as a committee without volunteers like yourself. The Murrysville Export Republican Committee is an active group. You can sign up here for our newsletter and other information so that you can keep better informed.
---
Rep. Keith Rothus to visit Victory Center

This Friday Oct 28 at 10:30 AM, Rep Keith Rothfus will be visiting the Victory Center to thank volunteers, and provide words of encouragement for the 10 days prior to election day. All are welcome. Come out an meet Keith.
---
Download our Review Here and Learn about our National and State Candidates.
---
Victory Center Is Now Open
It is located at 4510 William Penn Highway….in the Shop and Save, Morning Glory Shopping Plaza. At the center you can find out how you can participate in this election and also pick up campaign materials.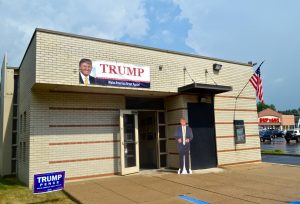 While the MERC Victory Center is open, stop by and volunteer to make phone calls or be a greeter! We may be the only center with a drive through window for bumper stickers and buttons including Trump signs, tee shirts, hats, and buttons. Center hours are from 10 a.m. to 8 p.m. Monday thru Friday and 10 a.m. to 4:00 p.m. on Saturdays. Thank you and Let's Make America Great Again!
---